The
mini feed processing plant
is specially designed for small scale pellet production, which can meet the daily requirement of a small pellet production plant or family use. The mini feed processing plant is one foundation frame,saving much space and lowering your pellets production costs. Patented pelletizing technology guarantees a flexible applicability, satisfying customers with different requirements. Henan Strongwin can also customize feed pellet plants with other capacities.
The main machines of Strongwin mini feed processing plant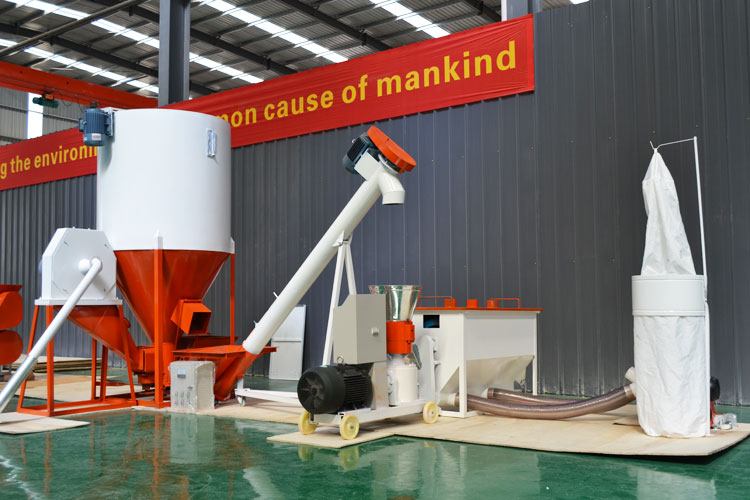 Animal Feed Crusher Machine
Feed Hammer Mill has the advantages of reasonable design,compact structure,safe,wear resistant,simple structure,compact assemble,lfeed crusherow price,reliable performance,low power consumption,high capacity,good quality of final products and low production cost,etc.It is combined with cutting and grinding,it can cut and grind branch and limb which diameter is between 10 to 200mm,meanwhile.
Feed Combined Mixer and Grinder- min feed processing plant
This 2 in 1 animal feed combined mixer and grinder is vertical type which saves your room and saves your price cost and absorb the raw materials by itself,completely automatically feeding.
This animal feed mixer and grinder is mainly used to crushing and mixing kinds of raw materials to produce poultry feed. The crushing part is hammer mill grinder with feature of absorbing the raw materials automatically,the mixing part is vertical screw type,feeding raw materials through a screw conveyor.
Simple Feed Pellet Mill
1. The flat die pellet mill is made of wear-resistant material thus having a long service life.
2. Simple structure, small area coverage, easy operation and maintenance.
3. Low consumption, competitive price and cost saving.
4. Electric feed flat die pellet mill can process various kinds of solid grain into small feed pellets for animals like fish, shrimps, chicken, rabbit, pig, etc.